As someone who lives in Prahran for almost a year. I am aware that I have yet to try a lot of the amazing places there are around. Apart from the cafes in Prahran that I have written about earlier, I also do know some places that were good enough to talk about and recommend to my friends. Here are some of the restaurants in Prahran and Windsor area worth noting down and just exactly what dish I ordered that hit home for me.
1. Fratellino Pizzeria
The first place is one of the restaurants in Prahran that is a little off the area on Malvern Road. Fratellino Pizzeria is just pure heaven for me. I found it on Google Map because I was craving pasta. Interestingly, I actually don't really like pizza (I know!) but I love pasta. However, my pasta needs to taste in a particular way that's not too heavy or creamy. I also just learned that you can ask for chili oil or flakes to get that kick of spice I love in a fusion pasta back in Thailand.
Fratellino Pizzeria is a cozy, family-run restaurant that I cannot get enough of. I always go for their La Mer seafood pasta while the people I went with tried other stuff. They have wood-fired pizza and a range of pasta dishes to choose from. I tried their carbonara and it was heavenly. I think it could have been the best carbonara I have but then again I'm Asian and I hate cheese so I haven't tried much. But then again, I"M ASIAN AND I HATE CHEESE so if I like a carbonara dish it has to mean something right?
I prefer the La Mer dish with spaghetti than fettucini.
Also, always make an appointment if you can! We went there and it was completely full and sometimes we had to wait for food for over 40 minutes.
2. Subi Q Korean BBQ
I found this place by accident. We were going to go to Fratellino Pizzeria but it was full and we couldn't wait so we went to this place nearby instead. It was surprisingly good for a Korean BBQ place to be on such a white area near Chapel Street. Don't let the dim lights of the outside fool you to think it's not legit. We had a good meal despite it being crowded and we didn't make an appointment on a Friday night.
Photo credit to: Edwar Kartio
We ordered the classic Pork Belly and the side dishes were good. Also, we tried their Fried Chicken which was really juicy as well. The place was also bigger than we thought as well, however we do wish there was more service on a busy Friday night.
3. Hawker Hall
The popular Hawker Hall is one of the restaurants in Prahran known for having the same owner as of the super famous Chin Chin restaurant in Melbourne's CBD. As the name suggested, they draw their inspiration from the hawker food from Malaysia and Singapore. To be honest, I like the vibe of the place and its design. It's rustic but also upscale at the same time. The open kitchen was fun as well but it's on the expensive side and I won't come again if it wasn't for something special. The food was a hit or miss for me.
We ordered the Prawn and Ginger Dumpling as well as the Pork and Chive Wontons. I can't remember which one tasted really weird, I think it's the Prawn one. It was on the expensive side for just tiny serving as well but then we were already told it was an appetizer dish anyway.
Also, I ordered the Barramundi Fillet and my friend got the Roast Pork Belly with lettuce and plum sauce. The latter was definitely way toooo heavy and the plum sauce was just too sweet. They should have provided us rice or something. The Barramundi though took a bit longer to make and we thought they forgot it at first but it was actually the best out of everything.
4. Marmara Restaurant
I absolutely love this place! It is a family-run restaurant and the service was friendly and attentive. I love their decoration and vibe.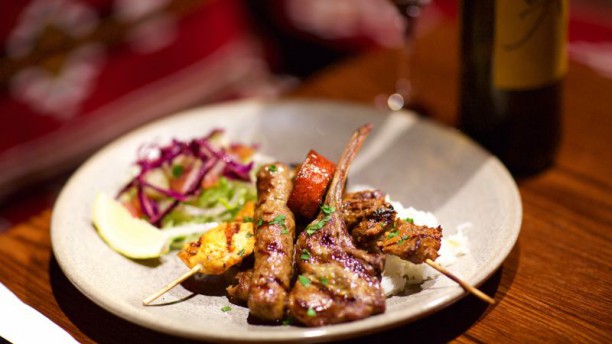 Picture credit from Liven 
My picture of the chicken dish looks really sad but you get the point! HAHA
Liven can be used here as well which is awesome and I think this place offers the most cash back of 25%!! I absolutely loved their chicken dish and my friend ordered the mix grilled dish. IT WAS ABSOLUTELY DELICIOUS. It was juicy, flavourful and the salad was citrusy and fresh. I love love love this place! They even have a different price for takeaway and it's lower than the dine-in menu which is definitely worth noting.
5. Tsukiji
This place is known for its fresh seafood ready to be purchased and prepared instantly. You are supposed to pick the fishes of your preference in the fridge and tell them if you want it to go home or be prepared (sliced up for free!). They also have a range of other Japanese dishes if you don't feel like sashimi that day.
Thanks to Eve for this photo
6. Hooked
This fish and chips place is my lifesaver! I always go there for some amazing lunch deals that I know will make my day GREAT. I love their friendly and quick service and of course their DELICIOUS dish and chips. The restaurant's design is also very nice and airy and the serving size is generous.
Their lunch deal is every day starting from 11.30 AM (when the store opens) up until 4.30 PM which only starts at $10.95, One of my fav is the Blue Grenadier with salad and chips! You can choose between rice or chips and also the way the fish is cooked, battered or grilled! Their salad also ranges from Garden Salad with balsamic dressing to Asian Slaw. It's always fun to choose around but I tend to go for the same selections with battered fish, chips and garden salad. Also, with lunch deals, you have to pay extra $1.50 each for sauces such as the classic Tartare sauce to my fav Sweet Chilli.
There are also student discounts and not to mention their vegetarian mushroom burger is really good accordingly to my friend. I've tried their calamari and loved it but would still not pick it over the fish though! 😛
7. Oishi Kitchen
The final restaurant in Prahran I just recently visited is Oishi Kitchen. The service was friendly and nice and I love that they give you free side dishes and you can ask them to refill it. I honestly asked them like 4 times because I loved their battered squid side dish so much and the waitress was happy to do so.
Photo credit to: Max Gross
My friend ordered bibimbap and I had a taste, it was honestly really good for someone who doesn't like the dish like me! Their menu is also diverse with both Korean and Japanese dishes.
And that is all the 7 restaurants in Prahran and Windsor area and around I would like to introduce you guys to! There are definitely a lot more places to try but I am getting there (always so used to getting the things I already know and like) so if there is an updated list in the future, I will definitely write another one!
Thanks for reading and bye for now,
Comments
comments