After reviewing Siam And Sukhumvit area, now it's time to move and review Bangkok markets in Ratchada and Ladprao. This is the area where all the Chinese tourists are found along with gigantic tour buses and a mini yellow flag guiding their way. It's where everything seems to never sleep. The Ratchadaphisek road is a vein coming out of the pumping major hub of Asoke, this is where the Sukhumvit line expands. Cooperate office building, public transportation like the MRT subway, foods and malls are scattered along the road leading to another area of the urban city. The neon lights shine, the bars loud, the "spa" crowded and the night market buzzing with life.
Ratchada/Rama IX

Train Market Ratchada
We start off with my most favorite Bangkok markets of them all, Train Market in Ratchada. There are 2 Train Markets in Bangkok and one of them is conveniently located next to MRT Cultural Center. It is easily accessible and filled with light. There are countless shops in rows selling all the street food you can imagine and cheap clothes ready for bargaining. You only need to experience one of many Bangkok markets and Train Market Ratchada should be top on your list. They have such amazing food that I personally bring my foreign friends here all the time. These are the foods you NEED to try when you're here or in any Bangkok markets that happen to have it too.
Leng-Zaab
Credit to:Food MThai
Leng Zaab is a gigantic dish of pork spine soup in spicy and sour broth dressed with chilies and herbs. Don't be scared by the abundant amount of chilies put into this! Have a taste along with a hot plate of rice and maybe with a freshly made Thai fluffy omelet.
You can expect a long line and crowds everywhere, but don't you worried because the line moves really fast. You have to order first and pay your bills, make sure you ask the person who seems to be announcing the queue what number it is currently. If you have time you can walk around for a bit or just stay there until your number comes up. By the time you are seated in a hot, packed tent, your Leng Zaab would already be done and ready to serve. You can ask for a plastic glove to make the peeling the pork meat easier too! Have a try and enjoy the experience.
Be careful, because of the popularity other food stalls are competitively offering this dish in their menu. If you want the original one, make sure it's the stall right at the back called Leng Zabb with this particular logo.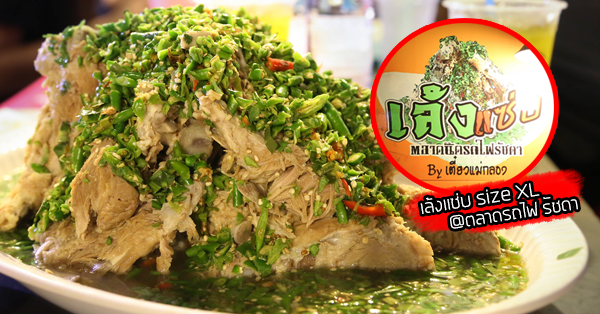 Credit to: Ryoii
Watermelon Shake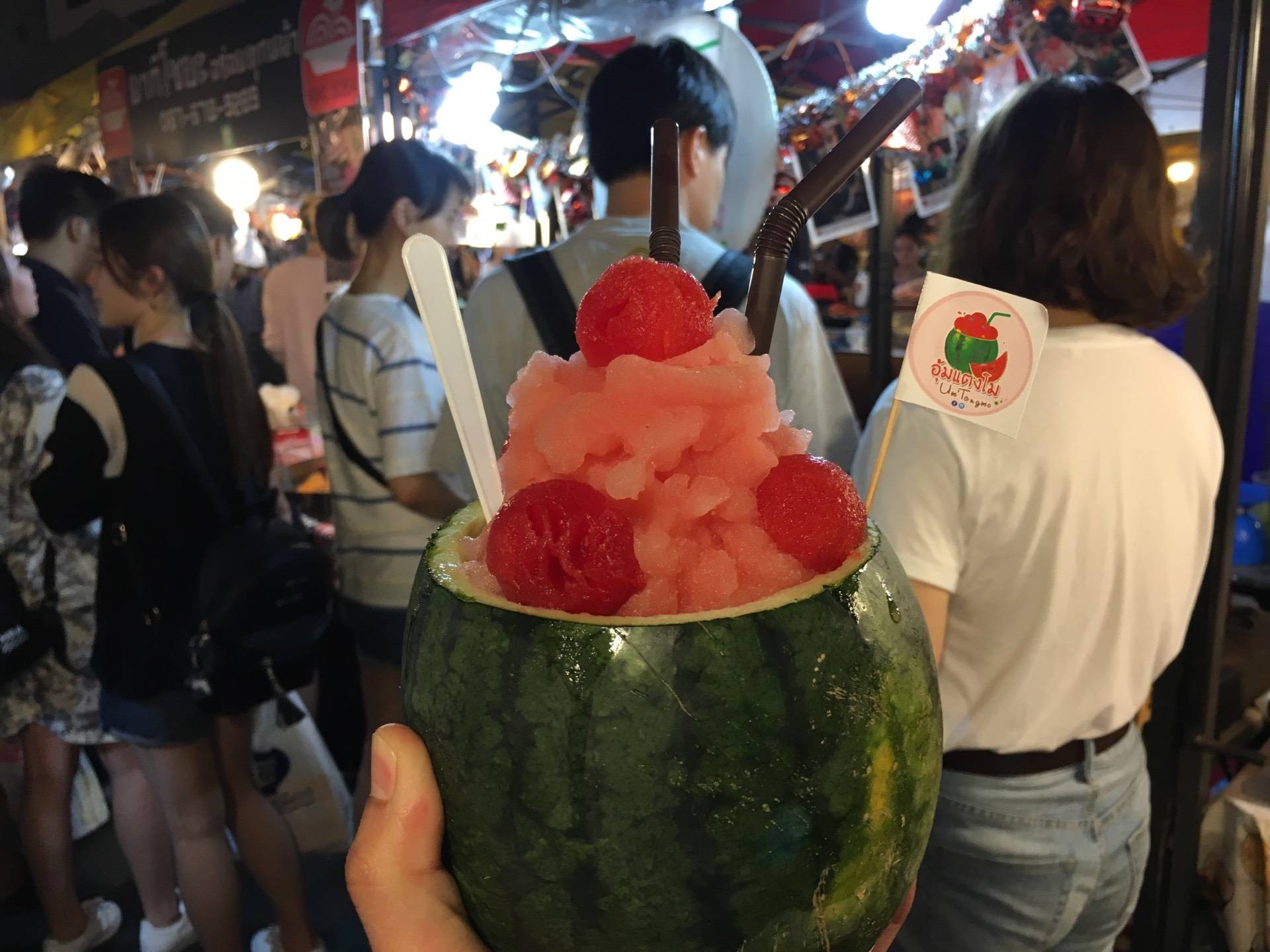 Credit to:Wongnai
This is one of my favorite drinks to order. It's cold and refreshing. Here, they also serve you in a watermelon cup topped with little watermelon balls too!
Padthai
Credit to: Facebook
The Pad Thai here is great, even for locals like me. It doesn't taste bland and the size is not too big so you can be sure your tummy has enough space left for more food to come! It's served in a cute coconut bowl and cooked fresh when you order.
Seafood Bucket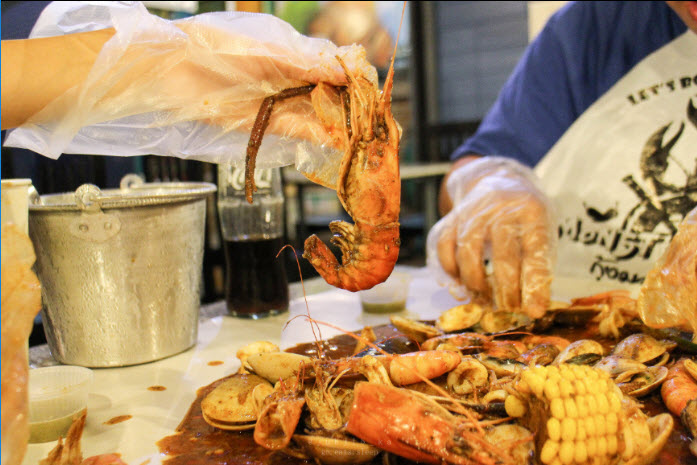 Credit to: Pantip
This menu is another sensational internet trend. It's basically a bucket filled with seafood and topped with the delicious sauce. The fun is that you can really dig deep with the help of the plastic gloves they provide!
Jompalang Noodles
Credit to: YouTube
As you can see now that this Train Market seems to have gigantic portions of food to wow the tourists and lure them in. This bowl of noodles is no different, with a huge portion comes a variation of great quality toppings that you can choose from. This ranges from crab meat to mega fishballs.
 Paomaemloie Steamed Seafood Plate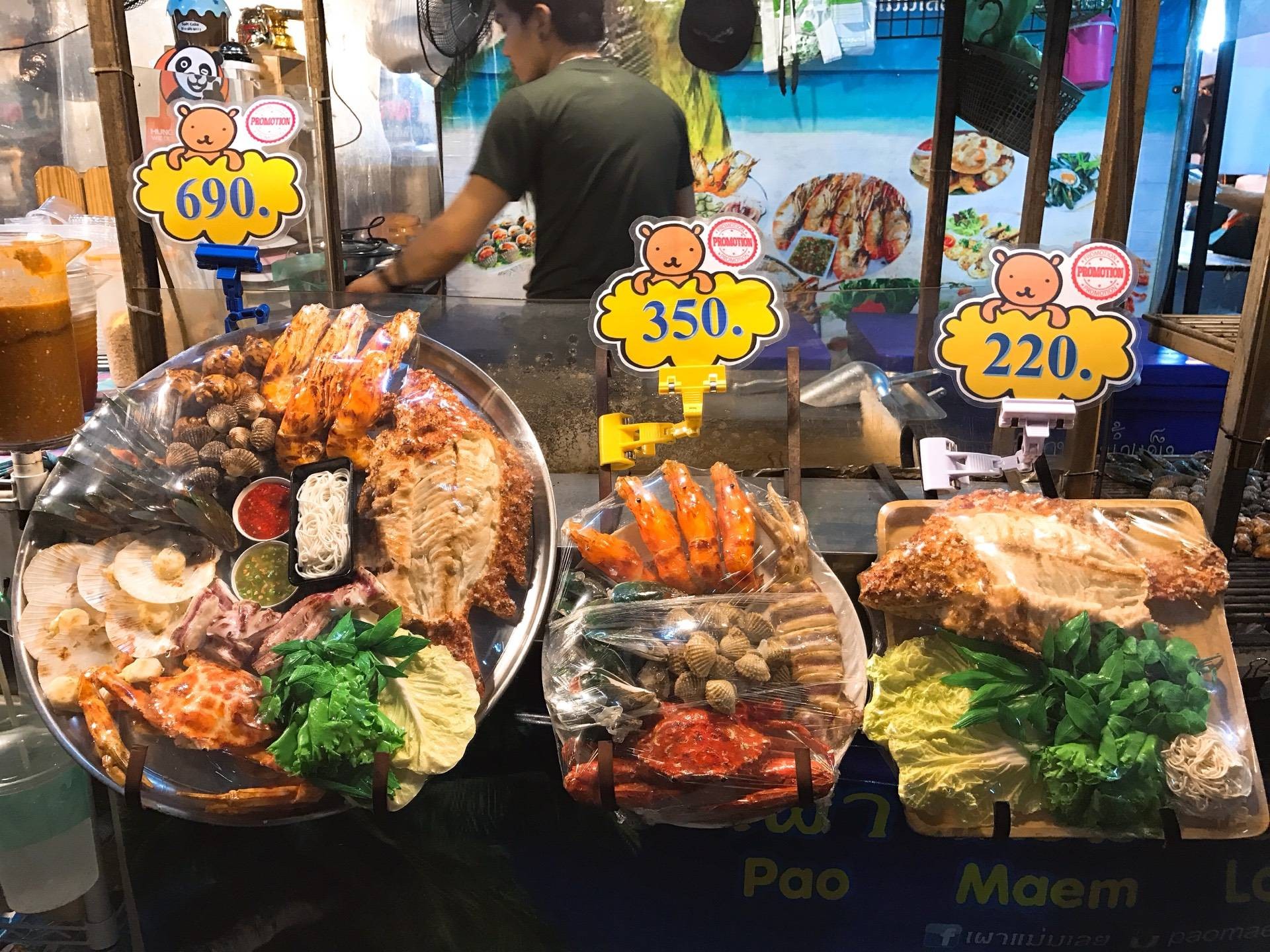 Credit: Wongnai
Paomaemloie literally translates to Burn the Fu*k out of IT. This is yet another incredible seafood place that has servings as big as the picture below. The seafood is fresh, big and juicy. With so many selections to choose from jumbo shrimps to different kinds of shellfish, you better be prepared and come with your big group of friends to challenge this!
And of course, do not forget to eat it with the classic Thai seafood spicy sauce. It's not real Thai seafood experience without the help of these delicious, spicy and herbal dips.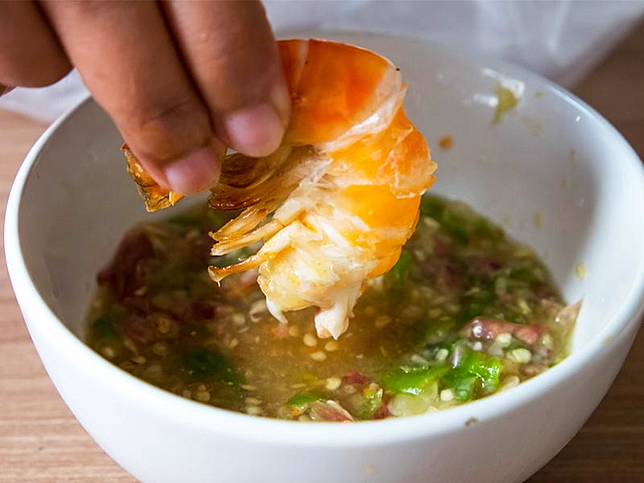 Credit to: LINE Today
Of course, there is a lot more food to explore in this sizeable market located behind the Esplanade mall. Chinese, Japanese or even Korean food, you name it, they have it! Be sure to have your stomach ready and bring a big tote bag for some shopping!
Chatuchak/Mochit
A little further up the Ratchada street, you will see a lot of neon lights of "spa" and "massage" places. These are one of the well-known roads for the infamous Bangkok massages that fuel Thailand's sex tourism. Because of this, Ratchada becomes known as a road that never really goes to sleep. However, a little further up you will be in Chatuchak/Ladprao or BTS Mochit where it is less flashy and more residential.
Vachirabenjatas Park (Rod Fai Park)
This is one of Bangkokian's most favorite green parks in the city. Not only is it conveniently located in the city but it is also one of the very few places to offer bicycle rentals. This is, of course, a lot of family's favorite activities. With the newest bike lane, cycling here is a lot smoother and safer. There are other activities to do besides cycling as well such as kayaking and joining the basketball court. If you want to check it out, at around 4-5PM, there will be a group aerobic open space where locals especially older ones come to do their daily exercise and meet up with their friends.
Credit to: TheTripPacker
Chatuchak Weekend Market
This weekend market is well known to be one of the best and biggest weekend markets there is in Bangkok. Since it only opens during the weekends, it's packed with people and stores that come alive 2 days a week. You can buy everything you can think of, from local souvenirs to plants and pets!

Credit to: thaiload.com
Or Tor Kor Market
This market food court is walkable from the Chatuchak Weekend Market, if you want to eat in a food court setting and not have to walk around with your food then you should come here! The market is actually pretty "high-so" which means it's on the expensive side because of its setting and construction. Expect the prices to be a little on the expensive side but it is great if you are already going to check out Chatuchak for a bite before walking in the sun the rest of the afternoon.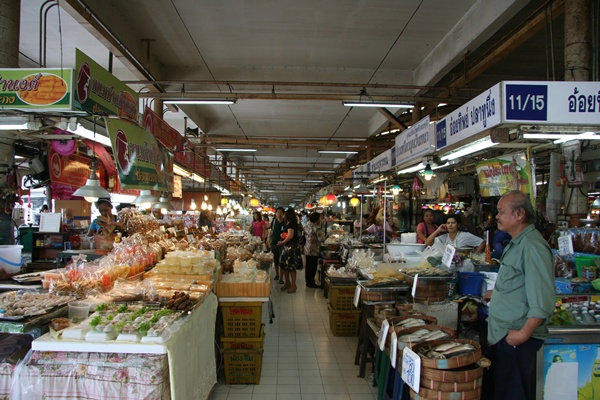 Credit to: Sanook
Recommended food to order is:
Credit to: Postsod
Pork Satay (amazing to eat with peanut dips and sour cucumber sauce, you can ask for extra bread too)
Credit to: Thairath
 Thai E-Sarn Sausage (amazing to eat with fresh chili and ginger)
Credit to: Thairath
Crispy pork and Chinese Sausages with sauce (you can ask for Barbecued red pork too!)
The list goes on, just make sure to have a look around before you order and there is no need to clean after yourself here too!
If you are wondering what the perfect itinerary for a one-day trip in the Old Town part of Bangkok, Rattanakosin. Check it out 🙂
Comments
comments